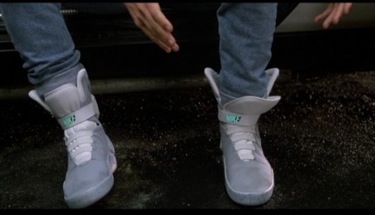 In 2006 schreef fris_licht er over:
"In Back to the Future II droeg tijdreisheld Marty McFly speciale Nikes, zoals je je ongetwijfeld nog kunt herinneren. Al Cabino wil nu dat Nike deze echt gaat produceren.
En hij krijgt steun van alles van filmmakers tot de Wall Street Journal. Hij heeft zelfs de bijzondere aandacht van de Nike bazen. Tot nu toe haalde de sneakeractivist zo'n 5.000 handtekeningen op uit 50 landen."
Goed nieuws: het is Al gelukt. Zo ongeveer. Nike is onlangs met de Hyperdunk 2015 gekomen. (Back to the Future II speelt zich af in 2015). Of beter: de McFly Hyperdunk.
De schoen is een exclusieve versie van Nikes meest innovatieve basketbalschoen, de Hyperdunk. De Hyperdunk 2015 verschijnt in de kleuren van Marty's toekomst Nikes. De McFly Nike wordt slechts in 350 exemplaren geproduceerd.
Het is overigens geen exacte replica van de schoen uit de film. Hij is er 'slechts' op geinspireerd.