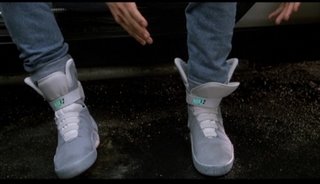 De macht is aan de consument. En dat betekent regelmatig schrikken voor merken. Coca Cola zakte al een keer flink door het ijs met een niet handig geintroduceerd weblog.
Maar consumenten, die de straat opgaan, brengen niet altijd slecht nieuws. Een leuk voorbeeld is Al Cabino. Cabino is sneakerographer en noemt zichzelf de nieuwe versie van Naomi Klein. Hij is sinds november bezig handtekeningen op te halen om naar het Nike HQ te sturen. Niet omdat Nike ergens mee moet stoppen. Maar om Nike te vragen een nieuw product te lanceren.
En niet zomaar een. In Back to the Future II droeg tijdreisheld Marty McFly speciale Nikes, zoals je je ongetwijfeld nog kunt herinneren. Cabino wil nu dat Nike deze echt gaat produceren.
En hij krijgt steun van alles van filmmakers tot de Wall Street Journal. Hij heeft zelfs de bijzondere aandacht van de Nike bazen. Tot nu toe haalde de sneakeractivist zo'n 5.000 handtekeningen op uit 50 landen.
Cabino hoopt dat Nike snel reageert. "There's a sneaker legend that says that in 2015, Nike will come out with them. But I'm not going to wait 9 years. If Nike accepts the petition we're going to party like it's 2015. And drink Pepsi Perfect!"