Leestijd: Less than a minute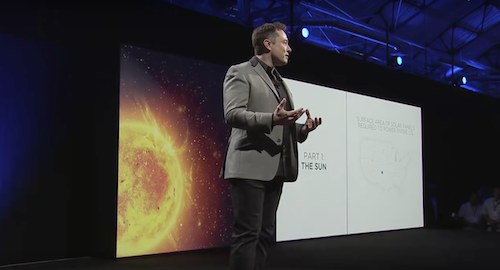 Elon Musk toont marketeers dat merken tegenwoordig op een andere manier gebouwd worden. Innovatie speelt een belangrijke rol. Want het is vandaag makkelijker om met baanbrekende, onderscheidende proposities te komen. Deze proposities creëren hun eigen 'buzz', waardoor er minder omheen geschreeuwd hoeft te worden.
Tegelijk laat Musk zien, dat het belangrijk is om mensen actief te betrekken in de reis die het merk maakt. Dit is de kunst van 'Storytelling'.
Ofwel, wees niet alleen innovatief. Vertel ook een sterk, archetypisch verhaal over dat wat je doet. Dat verhaal gaat verder dan je product. Je hebt zowel een sterke waarom, als een gemene vijand nodig.
Voor een project waarmee ik bezig ben, kwam ik deze 5 stappen weer tegen. Ze zijn gebaseerd op een analyse van de verhalen die Musk vertelt.
Print ze uit en hang aan de muur.
1. Name the enemy.
2. Answer 'why now?'
3. Show the promised land, 
before explaining how you'll get there.
4. Identify obstacles, 
then explain how you'll overcome them.
5. Present evidence 
that you're not just blowing hot air.
Hier kun je de 5 stappen in de praktijk zien. En hier worden de stappen uitgebreid besproken.
En wil je meer weten over de koppeling van innovatie en storytelling? Check hier de colleges die ik geef.