Leestijd: Less than a minute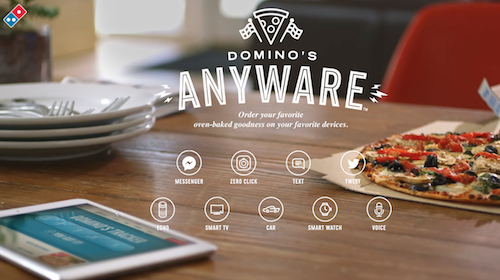 Gisteren schreef ik over m'n fascinatie voor Amazon. Vandaag een ander merk dat ik actief volg: Domino's.
Domino's is inmiddels 'A Tech Company That Happens To Make Pizza'. Net als Amazon innoveert het als een dolle. Telkens komt het met opvallende, digitale innovaties. Daarmee bouwt Domino's zowel haar merk als haar serviceverlening.
Zojuist kwam ik dit overzicht tegen. Het toont alle manieren waarop je een pizza bij Domino's kunt bestellen. Net als bij Amazon, vind ik het interessant hoe extreem een eenvoudig principe is doorgevoerd. Zo was Domino's één van de eerste partners van zowel Amazons Alexa als de Apple Watch. Inmiddels is er een heel 'pizza-ecosysteem'.
Aanleiding was ooit een dikke een crisis, hier schreef ik daar meer over. Het aandeel van Domino's daalde tot $2,83. Domino's gooide het roer radicaal om. Het ging vol voor 'opvallende innovaties'. Vandaag staat het aandeel op $169.
In dit kader ook grappig: de rijdende oven, drones die pizza's bezorgen en zelfs pizza per rendier.
Wordt ongetwijfeld vervolgd 🙂