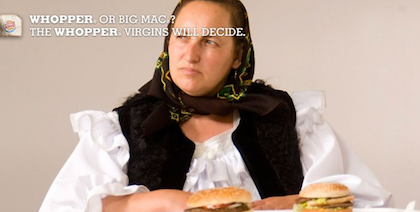 Crispin Porter + Bogusky is een bureau met inspirerende cases. Die zijn het resultaat van een inspirerende werkwijze. En daaraan ligt een inspirerend format voor briefings ten grondslag.
Wat ik vooral interessant vind, is de benadering om bewust spanning op te zoeken. Dit staat haaks op de insteek van meeste merken, om voor een zo groot mogelijke groep aardig te zijn. Een project als Whopper Virgins is hier een goed voorbeeld van.
AT A GLANCE
What is the most relevant and differentiating idea that will surprise consumers or challenge their current thinking of the brand?
TENSION
What is the psychological, social or cultural tension associated with this idea? What makes our target tense about the idea?
QUESTION
What is the question we need to answer to complete this assignment?
TALK VALUE
What about the brand could help us start a dialogue between the brand and our consumers, among our target and/or within pop culture?
Bron: Dan Pankraz Vs. Youth. Met dank aan Koert Bakker.