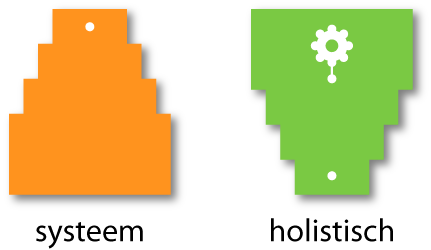 Bij marketingexperimenten worden twee dingen vaak verward: de stapelmethode en de beta-methode.
Te beginnen met de laatste: er is veel te leren van software-ontwikkelaars. De beste manier om een nieuw idee te testen, is door het in zijn simpelste versie live te zetten. Het gaat er niet om of het perfect is, maar dat het werkt. Als het nuttig is, wordt het opgepikt. En je krijgt feedback die je kunt gebruiken om een betere versie te maken.
Belangrijk is flexibiliteit en luwte om dingen stapsgewijs aan te passen (beta-versies). Echter, in alle 'kleine versies' zit de 'grote gedachte'. Het is de holistische benadering: de fabriek is zichzelf stapsgewijs opnieuw aan het uitvinden. Het begint met een klein zaaitjes, maar dat zaaitje kan flink gaan bloeien.
Dan naar de eerste: de stapelmethode. Een nieuwe benadering wordt ook klein uitgevoerd. Niet alleen qua vorm, maar ook qua insteek. De grote gedachte ontbreekt. Het is de traditionele benadering met wat extra's erop. Omdat de vernieuwende gedachte er niet echt inzit, blijft het steken bij gekkigheid. Het is de systeembenadering: de fabriek blijft een fabriek.
Dit is de reden dat veel merken niet succesvol – genoeg – zijn met sociale media, brand-utilities of mobiele apps (enzovoort). Het domein wordt niet fundamenteel begrepen en er wordt geen waarde toegevoegd. Er wordt geëxperimenteerd met wat gekkigheid. Zij doen het, dus wij doen het maar. Het zaaitje wordt nooit een bloem.
Ofwel: begin klein, maar denk groot. En niet gek.