Leestijd: Less than a minute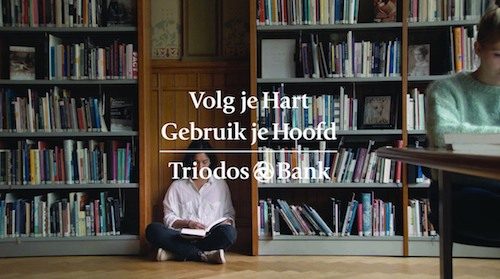 Een inspirerend voorbeeld van een sterk merk is Triodos Bank. De bank heeft een eigen positie gekozen, deze consistent vastgehouden en hiermee de wereld in stukje de goede kant op laten bewegen.
Greo Belgers zat eerst bij Dawn, het bureau dat de iconische campagnes ontwikkelde. Nu is hij marketingdirecteur bij Triodos.
In dit filmpje vertelt hij welke 5 stappen Triodos heeft gebruikt.
1. Change the script.
Regeer op de context waarin je opereert en neem een standpunt in.
2. Maak van je merk een movement.
Je trekt mensen aan met een gedachtegoed, daarmee creëer je een beweging. Dat doe je niet met een product. Pas in tweede instantie kun je een dialoog hebben over de producten die je hebt.
3. Richt je op de Cultural Creative.
Culture Creatives passen volgens Greo 1 op 1 bij Triodos.
4. Make stuff people want.
Don't make people want stuff. Maak communicatie relevant, bied iets wat mensen aantrekkelijk en interessant vinden.
5. Van product naar purpose
Begin met je einddoel te vertellen: wat wil je bereiken in de wereld? Een sterke drijfveer trekt mensen aan.
Of, zo vat Greo z'n betoog samen: be a movement of change.