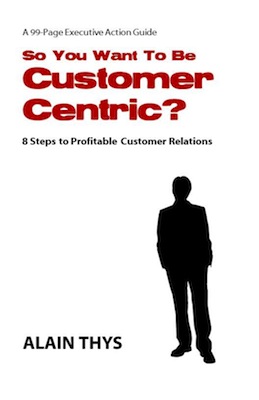 Marketing is een basaal vak. Je creëert waarde namens een merk en zorgt dat deze goed wordt gecommuniceerd. En wat waardevol is, wordt bepaald door de klant. Dus een goede marketeer zet zijn klant centraal.
Hoe logisch dit op papier ook lijkt, in de praktijk voelt het meer als een doolhof. Hoe vaak heb je als klant echt het gevoel dat een bedrijf je behoeften centraal stelt?
Natuurlijk zijn er inspirerende cases van Zappos, Amazon of Virgin. Maar hoe kom je daar als merk?
Alain Thys heeft hier een boek over geschreven: So You Want To Be Customer-Centric?
Het beschrijft waarom het niet alleen aardig is om naar de klant te luisteren, maar ook winstgevend. En hoe je alle afdelingen binnen het bedrijf hierbij betrekt, net als toeleveranciers buiten het bedrijf.
Thys gebruikt cases van ING Group, Orange Business Services, Philips, Lexus, L'Oréal, Sanoma Magazines, C&A en het World Economic Forum.
Het boek zelf is ook 'customer-centric', want het vat dit alles puntig samen in 99 pagina's ;).