Leestijd:
< 1
minuut
En nog een artikel. Op ViralBlog verscheen de Engelstalige versie van m'n artikel over de wijze waarop digitale media de ervaringseconomie omdraaien.
Een leuk detail: het artikel werd opgepikt door Joseph Pine, één van de geestelijke vaders achter de Ervaringseconomie.
Digital Turns The Experience Economy Upside-Down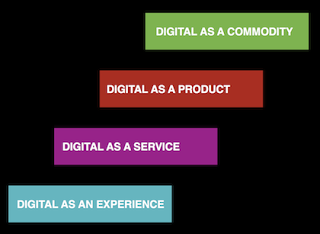 A few years ago, Joseph Pine and James Gilmore wrote the book The Experience Economy. They stated that brands could not sufficiently differentiate themselves with their products and services alone.
What was needed was an extra element: the brand experience. However, digital media seems to turn their model upside-down.
Met dank aan Igor Beuker.