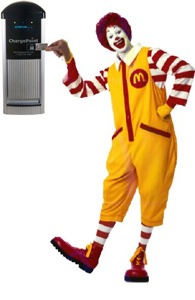 Piers Fawkes gaf ooit deze definitie van een brand-utility: the brand provides something useful, good and meaningful to its consumers and perhaps the world beyond.
Een nieuw initiatief van McDonald's doet beide: het is zowel handig voor de klant als goed voor de wereld. De restaurantketen installeert oplaadpunten voor elektrische auto's. De pilot is in North Carolina.
Natuurlijk, het is maar 1 restaurant van de 30.000. Maar wees optimistisch. Kijk naar 1 volle in plaats van 29.999 lege. Ofwel, steun dergelijke initiatieven met een wortel.
Bron: engadget