Leestijd:
< 1
minuut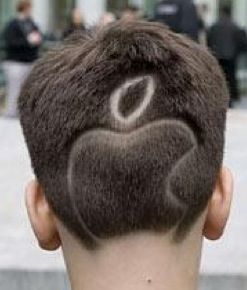 Ok, Amerikanen zijn nu eenmaal wat extremer. Maar toch interessant: een overzicht hoe ver mensen kunnen gaan in hun merkloyaliteit. En hieronder wat Nederlandse suggesties.
"Lovers of The Macallan have been known to name their children and pets after the single malt whisky and send the company postcards reporting foreign sightings of the brand.
Die-hard Apple customers in the US have been known to have the brand's logo tattooed onto their bodies.
There are more than 100 Mini fan clubs around the world. These groups include Mini Erotica and the Gay Mini Owners Club.
The Spam fan club website displays poems written by customers about their favourite tinned meat.
In 2001, 250 Americans 'married' their Mazda cars at a ceremony in Pennsylvania.
Manolo Blahnik on the loyalty his shoe brand inspires in women: 'I'm not able to understand all this madness and love.'"
Nederlandse voorbeelden? Even uit het blote hoofd:
De Nike Swoosh als oorbel

De Apple clubs

De fanclubs van Zundapp, de 2CV, Harley etc.
Iemand andere suggesties?
Bron: Branding Strategy Insider
Hier trouwens een grappig collage van Apple fans: het Apple-logo als tattoeage, kapsel of kunstwerk.