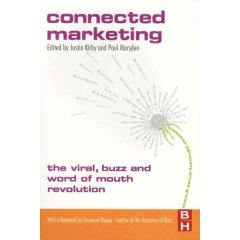 Nu we het dan toch over boeken hebben, willen we u graag wijzen op een nieuwe uitgave in de categorie interessante marketingboeken: "Connected Marketing. The Viral, Buzz and Word of Mouth Revolution".
Connected Marketing pretendeert voorspelbare en meetbare oplossingen aan te dragen voor het creeren van buzz.
Aan het boek hebben 17 experts meegeschreven uit theorie en praktijk, zoals Emanuel Rosen (schrijver van de bestseller Anatomy of Buzz) en Graham Goodkind (Frank PR).